The Federation of Catholic Family Associations in Europe (FAFCE)
and the French National Confederation of Catholic Family Associations (CNAFC)
are happy to invite you to a conference on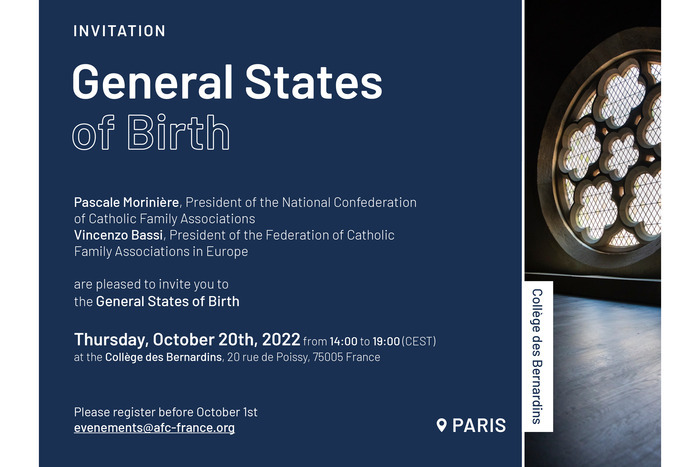 The demographic imbalance is a reality in all the European Union: no country in Europe reaches the replacement level of 2.1 children per woman.
What determinants can explain this "demographic winter"?
At the individual level, what are the obstacles encountered by families in their desire for children?
These questions were brought to the first
General States of Birth in Italy
in May 2021, opened by Pope Francis. The event contributed to raise awareness on the demographic change experienced in Europe and stressed the need to develop ambitious family policies. France used to have a higher birth rate compared to other European countries. However, since 2020, the birth rate in France fell to 1.83 children per woman, entering into a similar trend of demographic winter and ageing population.
Nevertheless, for the past 10 years, French couples continue to want to have as many children: 2.39 children per person. One in two families declared they would have had one more child if it was possible. Obstacles to the birth rate are at all levels: individual, within the workplace, economic, social, cultural and even political.
How can public policies reduce the intergenerational imbalance?
How to support European families in their desire for children?
This first international edition of the General States of Birth in Paris will gather demographers, philosophers, citizens and policy makers from all over Europe to assess the roots causes of the demographic deficit, and offer solutions for the future of Europe.