CONFERENCE INVITATION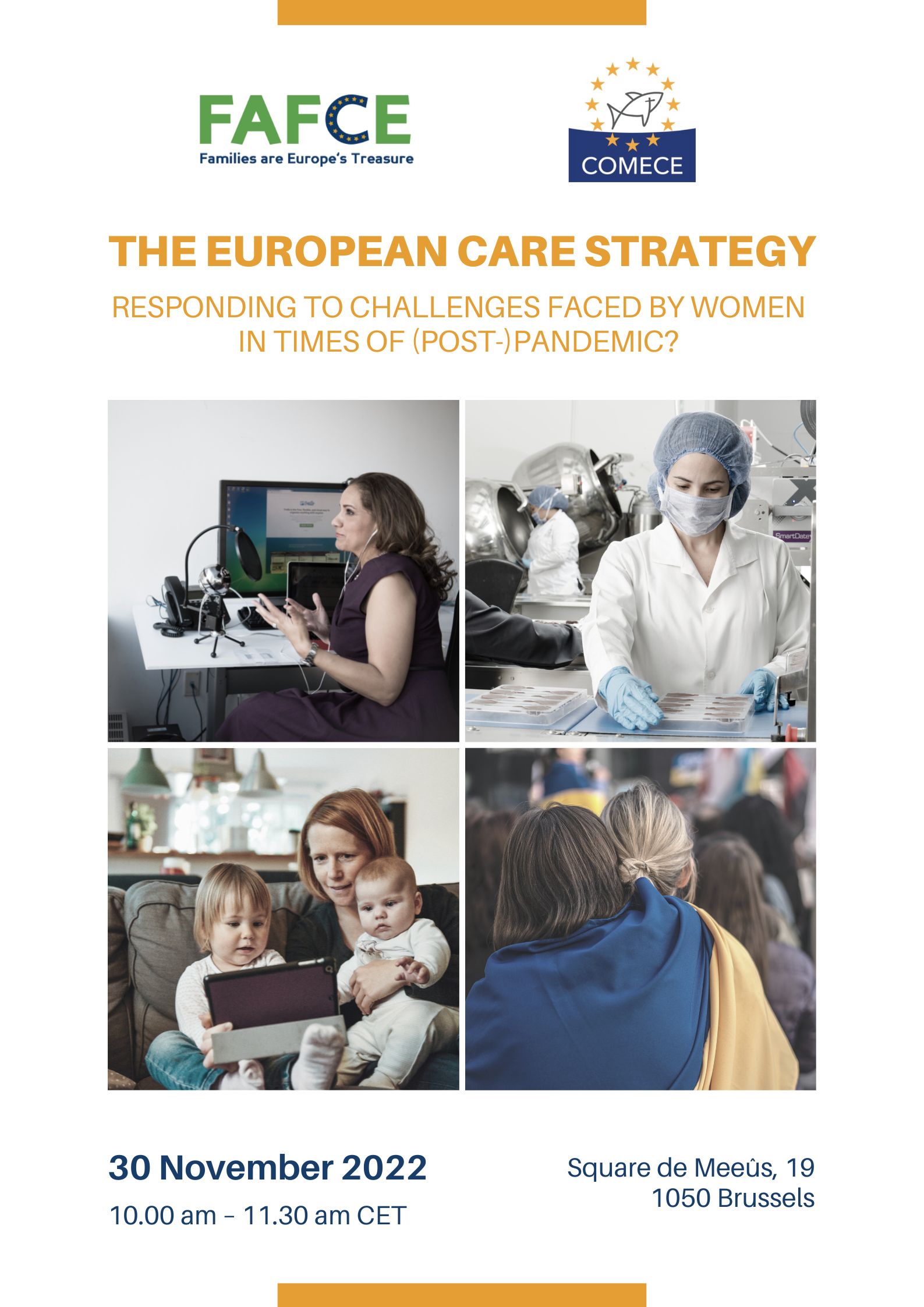 The Commission of the Bishops' Conferences of the European Union (COMECE) and the Federation of Catholic Family Associations in Europe (FAFCE) jointly organise a conference to exchange on the concrete experience of women after these times of pandemic.
The pandemic affected Europeans in all areas of their life: access to education, work, family, social life, transportation, leisure, etc. The most striking impact of successive lockdowns have been the emergence of new forms of work arrangements, often blurring the frontier between work and family space.
The European Commission published in September its European Care Strategy, as as one answer to the challenges women face in their everyday life.
Echoing to this Strategy, and in light of FAFCE recent Board Resolution on "Family unpaid care work: the heart of intergenerational solidarity", this event aims to share the reality of women and mothers at the European level.
PROGRAMME
Welcoming address
(10.00 – 10.05)
Fr. Manuel Barrios Prieto, COMECE Secretary General
Introduction to EU Social policies in times of the pandemic and beyond 
(10.05– 10.10)
Nicolas Schmit, Commissioner for Jobs and Social Rights (video message)
Challenges faced by women in times of lockdowns
(10.10 – 10.25)
Dolores Sanchez, Holy See, Dicastery for Promoting Integral Human Development
EU law in support of mothers
(10.25 – 10.40)
 Dobrochna Bach-Golecka, European law Professor, University of Warsaw
Roundtable
Women as care and essential workers during the time of pandemic. How does the European Care Strategy support women?
(10.40 – 11.25)
Panelists
Dana Bachmann, Head of Unit of the Directorate-General on Employment, Social Affairs and Inclusion
MEP Margarita De la Pisa (ECR, Spain)
Shannon Pfohman, Advocacy Director of Caritas Europa
Moderator: Bénédicte Colin, FAFCE Policy Manager
Conclusions
(11.25 – 11.30)
Nicola Speranza, FAFCE Secretary General
The video of the event is now available!