31 March 2021,
On 19 March 2021, Solemnity of St. Joseph, the Church celebratedthe fifth year of the publication of the Apostolic Exhortation Amoris Laetitia on the beauty and joy of love in the family. On the same day, Pope Francis launched the "Amoris Laetitia Family" Year.
Families and family associations will be at the centre of this year. FAFCE is thus happy to join this initiative and to adopt the logo of the Amoris Laetitia Family Year: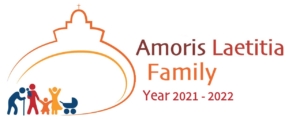 During last FAFCE Informal Board Meeting, Mrs. Gabriella Gambino, Undersecretary of the Dicastery for Laity, Family and Life, met online with FAFCE Members to present the upcoming initiatives of her Dicastery. More information on her intervention here.
Please find below a short video of introduction published by the Dicastery for Laity, Family and Life:
Happy year to you all families and family associations!