27 April 2022,
Last Monday, FAFCE organised the fifth edition of its FAFCE Dialogues, a series of dialogues in which FAFCE President, Vincenzo Bassi, exchanges with national Ministers responsible for family on the question of demographic challenges in the EU. The objective of these dialogues is to raise awareness on the intergenerational unbalance, share national good practices of family policies to reduce the demographic unbalance, and overall promote a family-friendly Europe. 
This fifth edition welcomed the participation of Milan Krajniak, Minister of Labour, Social Affairs and Family of the Slovak Republic.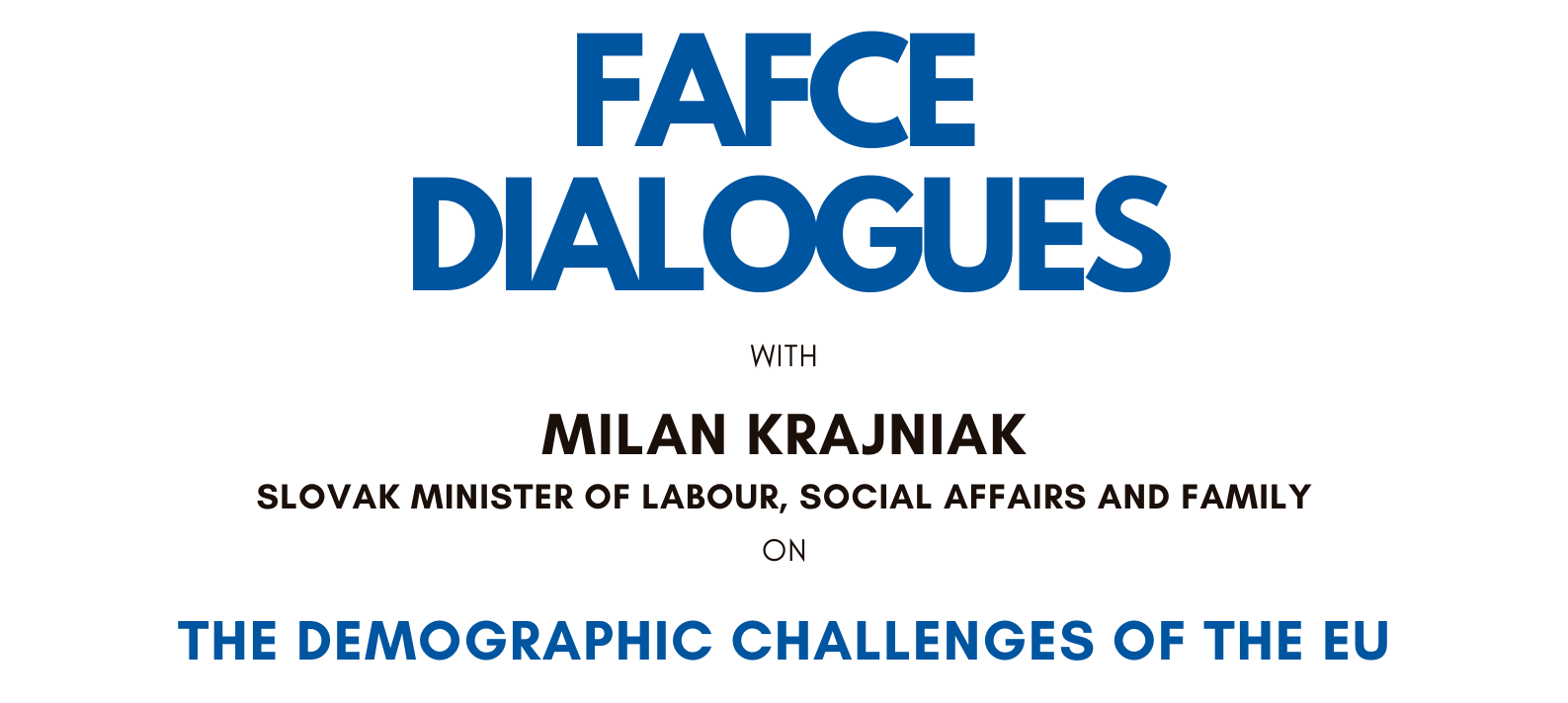 FAFCE President started the dialogue by stressing the necessity for intergenerational fairness for the future of Europe : "Which is the position of the Slovak Government? How to propose concrete solutions accessible to all European families, which often have to take care both of their children and for their elderly people?". As Minister Krajniak stressed, "workers contributes through taxes to support the elderly. It is not only to the state to take care of it". He presented a proposal in Slovakia to put 1.5% from gross wage of the working children to the pension of the parents.
President Bassi also recalled the impact of the pandemic on the weight of care responsibilities for families. However, as he highlighted, "these responsibilities are also a moment of real gratitude towards the elderly and a priceless joy for the parents. Recently published data in France show that the desired fertility rate for families is 2.39 while the real fertility rate has dropped down for the sixth consecutive year this year arriving at less than 1.87. Could you say one word on motherhood also in terms of freedom for women to become new mothers?". Minister Krajniak introduction the clear position of the Slovak Government on those issues: "If the civilisation looses the effort to recreate, to develop, that is very problematic. The basis of this development are children, and that is what we are loosing in Europe. How to react to that? Slovakia wants every young woman to choose and create a certainty that we will support such woman or family, either if she wants to go back to the labour market or if she wants to stay to care for her child".
As President of a Federation of civil society organisations, Vincenzo Bassi mentioned the need to consider the role of civil society, and the necessity to support and to listen to family associations, to which Minister Krajniak gladly mentioned his will to improve the work of the Ministry in that sense.
To conclude, President Bassi recalled the current context of war Europe faces, especially with regard to the question of welcoming Ukrainian families fleeing the war, to which Minister Krajniak reiterated the commitment of the Slovak Government to help families in emergency situations.
Click here to watch the FAFCE Dialogue: