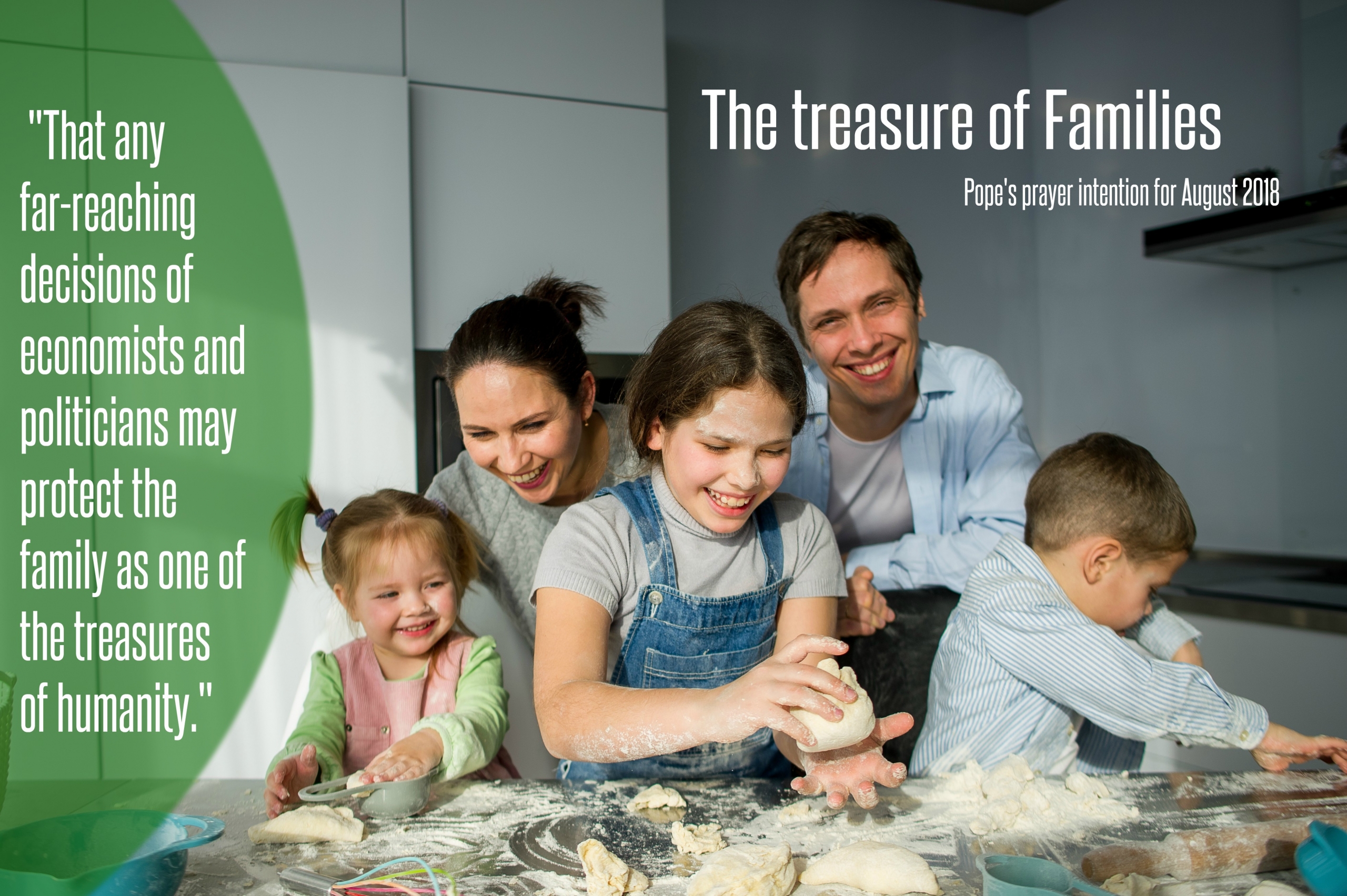 Let's join Pope Francis in his universal prayer intention for the month of August
 Brussels, the 1st of August 2018
Dear Friend,
With this message we would like to invite you to respond to the call of Pope Francis asking our prayers for the treasure of Families in this month of August.
 He entrusted this universal intention to the 
Apostleship of Prayer
, the Pope's worlwide prayer network.
This prayer, this month, becomes particularly important if we think that on 21-26 August we will celebrate the World Meeting of Familiesin Dublin, Ireland. 
As we said in our last 
newsletter
, last month, we strongly believe in the importance of this gathering, in order to announce the beauty of the family and we value particularly prophetic the choice of Pope Francis to organize it in a Country wounded by a couple of historical legislative changes, denaturing the institution of civil marriage in 2015 and, last May, repealing protections for the right to life of the unborn.
May the World Meeting of Families be a moment of announce of the Gospel to all and especially to Europe, an old continent which is closed to life. We need a demographic Spring to look towards the future. For that reasons, the words of St. John Paul II, speaking at the 1st World Meeting of Families in 1994 in Rome are extremely relevant today, when he mentioned the encyclical Humanae Vitae, indicating "the criteria for safeguarding the couple's love from the danger of hedonistic selfishness". This encyclical, of which we celebrate the 50th Anniversary this year, "Brought out the intrinsic bond between conjugal love and the generation of life" (Amoris Laetitia, 68). Let's pray that this World Meeting of Families will bring again the joy of the family to all Europeans.
Above all these challenges, indeed, we cannot avoid speaking about the spiritual battle, which is very strong indeed, and which is part of a mysterious plan: this is why we decided to answer to the call of Pope Francis to his universal intention of prayer for the month of August, an intention which is very close to the daily work of our Federation: "That any far-reaching decisions of economists and politicians may protect the family as one of the treasures of humanity".
Thank you for joining us in the prayer.
Yours,
Antoine Renard
President