9 November 2022, Brussels
FAFCE held yesterday a conference at the European Parliament on « Challenges and dangers of children exposure to sexual explicit content in the digital era", hosted by MEP François-Xavier Bellamy (EPP, France). Participants and Members of the European Parliament had the opportunity to listen to a multidisciplinary approach on the different harms online pornography presents for children.

Priscile Kulczyk, Research Fellow at the European Center for Law and Justice, stressed that "the protection of children from exposure to online pornography is a difficult issue to resolve legally because it currently involves a clash of rights: the rights of the child on one side, and the right to respect for private life or the freedom of expression on the other side". "Legal bases exist at the European and international level to concretely prevent children from accessing pornography: it can include warning message on pornographic materials, regulating moderation and notification policies, requiring pornographic sites to verify the age of their users, and even prohibit it."
Maria Hernández-Mora, Clinical psychologist on sexual addictions, recalled that "The average age of the first contact with pornography is of 9 years old and studies show that 40 to 70 % of children end up seeing pornography accidentally or involuntarily". "This premature pornography contact, I consider it as a "psychological rape" because it invades in an unexpected and brutal way the mind and imagination of the child. This is one of the most powerful risk factor for the development of an addiction from teenage years".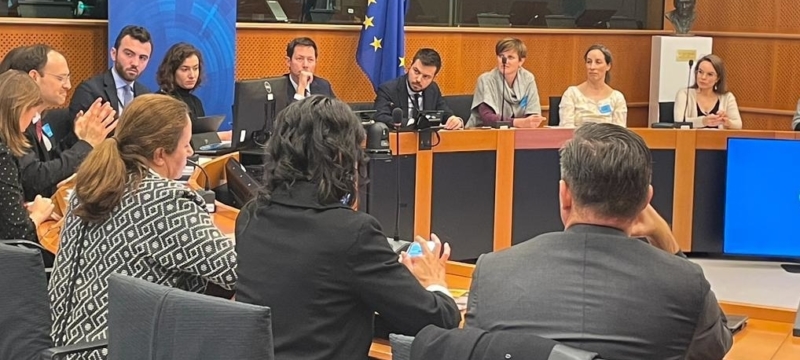 NGOs and delegates from civil society were also present to share their grassroots experience. Karima Okura, Secretary General of the Austrian association Safersurfing presented the work of her organisation: "We provide help in different areas. This includes people unhappy with their porn consumption as well as their relatives, and parents trying to protect their children from online porn. On our website, we offer general information on the subject as well as resources, like brochures, support groups, online video courses, contact information for counsellors and therapists.In our experience, support groups are a valuable tool to help people suffering from their porn use. They regularly meet people facing similar challenges and find a place of understanding and accountability."
Anne-Sixtine Pérardel, Founder of the French association Déclic – Sortir de la pornosphère, stressed that "As an emotional and sexual life counsellor for 8 years now, I accompany thousands of young people every year throughout France on these relational and sexual issues. Whether it is in my office or in school, pornography is everywhere. I am alarmed to see in my daily life entire generations fed up with pornography, which treat and understand sexuality only as a place of performance, where the other is an object of sexual satisfaction, before they even experienced their own sexual life. Our association Declic is overwhelmed with demand for prevention in schools and training. We are going to need serious policy commitment to that prevention, to education, and to funding it as well."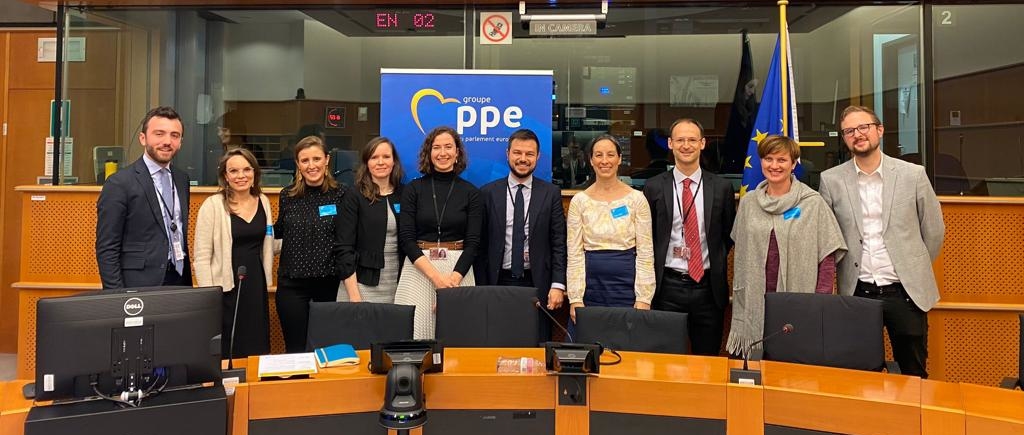 FAFCE Secretary General, Nicola Speranza, intervened by quoting Pope Francis' speech to FAFCE Board Member last June, who exhorted not only to protect children, but also to declare "pornography as a threat to public health"."How can we protect our children if we do not protect ourselves? – Nicola Speranza concluded – We really need these moments of exchange to create a child-friendly digital environment. As said by MEP Bellamy, today's conference is only a point of departure for a better protection of children in Europe".
FAFCE has been working for the past decade on the issue of online pornography, and welcomed the EU commitment to ensure a better internet for children, first with the 2021 EU Strategy on the Rights of the Child which put forward a focus on a safe digital environment for children, second with the upcoming revision of the EU 2011 Directive on the fight against child sexual abuse, and more recently with the publication of the new European Strategy for a Better Internet for Children, which tackles the question of the children exposure to online pornography.
More on FAFCE work on the harms caused by online pornography: