22th of June  2023
Following the announcement of the results of the European Art Contest, FAFCE invited participants from all over Europe to Strasbourg to give the prizes to the winners of the contest and to reflect on the fatherhood through the figure of Saint Joseph.
MEP Izabela-Helena Kloc (ECR, Poland) hosted the event, and emphasised in her welcome-speech the meaning of Art as an universal language and a splendid mean to convey the message of the Gospel. She highlighted the importance of Saint Joseph as a man who has remained faithful to his vocation and to the Truth, as well as a model of an authentic fatherhood. FAFCE Vice-President Cornel Bărbuț underlined the special nature of the European Art Contest in his welcoming speech and pointed out the participation of 126 artists from 22 different countries, which shows the great interest in this theme and the art contest. Mgr. Marco Ganci, Permanent Observer of the Holy See to the Council of Europe, honoured us with his presence and encouraging words.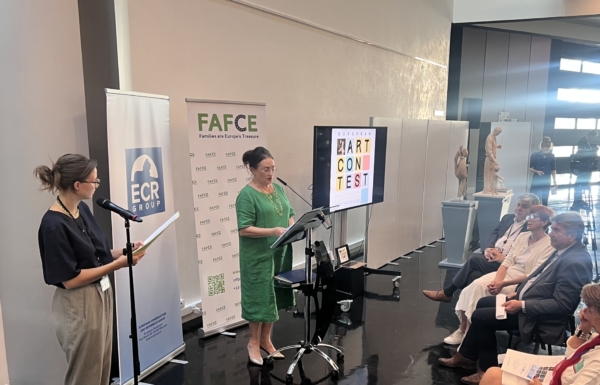 The french philosopher and writer of "To be father with Saint Joseph" Fabrice Hadjadj delivered the key-note speech in form of a recorded intervention. He highlighted in his video message the fact, that God chose a craftsman to be the father of His Son. Working with one's hands is also a commonality between artists and craftsmen, he said:
The members of the jury then gave statements on the theme of the competition, the artworks, and awarded the artists. Following the award ceremony, participants were invited to a get-together, where the artists, jury members and visitors could discuss on the artworks and the theme of the art contest.
Please find below some pictures  of the event: