Barcelona, 14 November 2022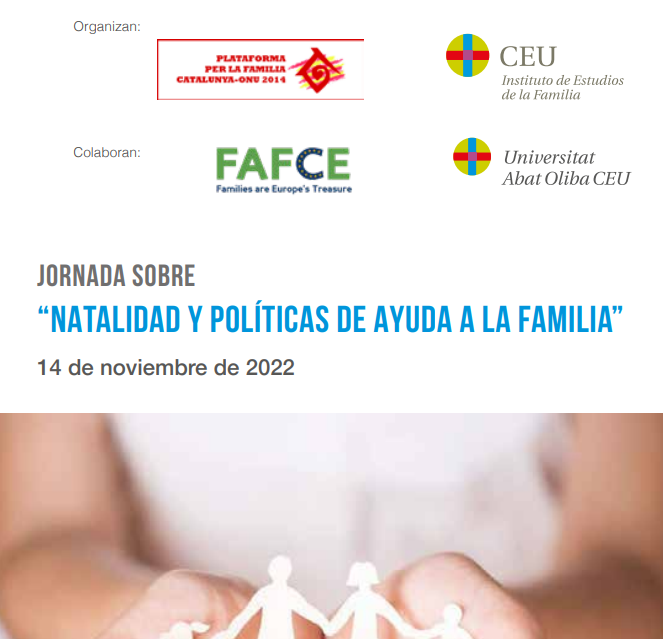 Today, 14 November, in Barcelona, Vincenzo Bassi, president of the Federation of Catholic Family Associations of Europe (FAFCE), will receive the Luchador por la Familia ("Fighter for the Family") international award from the Catalunya Family Platform.
This is the seventh edition of the award, which had taken place each year and was in recent years interrupted by the pandemic.
The "Fighter for the Family" award was created to recognize those people who, as the name of the award itself indicates, work in favour of the Family in every area that affects it, from economic and social policies to its very recognition as the most fundamental institution of society.
The international award will go to Vincenzo Bassi while the national award will be given to Jaime Mayor Oreja, former minister of the Spanish Government and current president of the European Federation One of Us.
The award ceremony will take place on November 14 during a Conference on Natality and Family Policies at the Abat Oliba CEU University in Barcelona.
Click here for more information on the program of the event (in Spanish).
Contacts:
Daniel Arasa, Catalunya Family Platform, President (ES, CAT, EN)
+34 626 619 537
Nicola Speranza, Secretary General, FAFCE (IT, FR, ES, EN)
+32 4 98 46 02 20
­
Biographical data 
Vincenzo Bassi holds a PhD in European Constitutional Law and is a lawyer at Italian High Courts. He is married to Carla and the father of three children. Since 2019, he has served as the President of the Federation of Catholic Family Associations of Europe (FAFCE), an organization with participatory status before the Council of Europe and a member of the EU Platform for Fundamental Rights. He is vice president of the Italian Union of Catholic Jurists (UGCI) and delegate for international, legal and economic affairs of the Board of Directors of the Italian Forum of Family Associations. One of the main lines of action that he promotes is the "General States of Birth", whose first international edition took place last October in Paris.